SANMAR / Port Authority
District Threads and more. Click here for clothing from T-shirts to Work-wear, jackets and hats; Adult, youth, toddler and infant. There are bags, accessories and team wear.

Create your own personalized items - 1 to ???
Click on this link for a few items that can be done in small quantities and you can do all the layout, upload your art and have the items delivered right to your door. Put a photo on a blanket or shirt, or do up a flag for your next sale!





Logomark
Link to our Logomark site, many items are available with 24 hour printing, they are located in Southern California, so if you are down to the wire and need something fast, or even in regular time, check out this link



Featured Item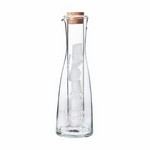 ICE-COOL™ Carafe
Your favorite beverages can be chilled without dilution. ICE-COOL™ can hold up to a full 750 ml bottle of wine. Great for wine, cocktails, tea, lemonade, etc. Fill the glass insert with ice cubes, pla...
$12.47 - $15.33
A New Direction For Us, Inc.
Welcome to our site, we often say "if you don't promote your business, that's ok ..... if you don't want one to promote." It is a simple fact, one way or another you must let people know what you offer and the only way to do that is to promote your business.
We are here to help you - there are 1,000's of items and ways to promote your business, don't let yourself get overwhelmed, we are here to help you, help you choose, help you design, help you to grow. Just give us a call. Whether you want one item or thousands of items we will take the time to listen to your needs and do our best to help you.
Signature Showrooms